Five [7] questions with Chi Achebe on the Anzisha Prize
[Interview held on Tuesday 12 February 2013]
Audio clip: Adobe Flash Player (version 9 or above) is required to play this audio clip. Download the latest version here. You also need to have JavaScript enabled in your browser.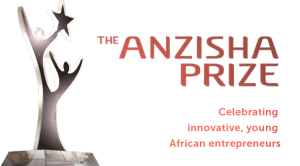 1. Good morning! I'm here with Chidinma Achebe from the African Leadership Academy. Chidinma is a Program Manager and leads up the Anzisha Prize for the African Leadership Academy. I'll leave it to you Chidinma, why are you in Dar-es-Salaam this morning?
Hi, it's a pleasure to be in Dar-es-Salaam. I'm here evangelizing the Anzisha Prize across the city. Essentially the Anzisha Prize is a $75,000 youth innovation competition for young African entrepreneurs between the age of 15 and 22. We're holding sessions throughout the city this week to share the Anzisha Prize opportunity with as many Tanzanians as possible. So I encourage everyone to come out. We have 3 sessions. The first is on Wednesday, from 2-3.30pm at COSTECH Innovation Space. The second is at Dar-es-Salaam University from 11am-1pm. And the third is on Friday at Maanisha! from 11am-1pm as well.

To give you some background about the Anzisha Prize, it's been in existence for 2 years. It was the brainchild of the African Leadership Academy and it is still managed by the African Leadership Academy. It receives its funding from the Master Card Foundation. Our mission is to find and recognize and celebrate young African entrepreneurs who are making an impact in their communities.
2. That's great. Would you be able to tell us a bit about the African Leadership Academy? How was the Anzisha Prize brought up?
The African Leadership Academy has been in existence for about 5 years and it's a very unique school. It is essentially one of a kind. Our mission is to develop a future of ethical leaders. And so we do this in many ways. Our core curriculum is making sure that all of the students that pass through our doors, no matter what they focus on be it chemistry, pre-med or pre-business, they all take classes in African studies, leadership and entrepreneurship. Because we believe that leadership – good leadership – and entrepreneurial thinking is the future for development in Africa. And the youth hold that power towards a better Africa. And so the African Leadership Academy is a school that brings together all of the top students from all over the continent to Johannesburg, South Africa to take part in this unique program.

The Anzisha prize was founded about 2 years after the school started because we realized that there is a lot of potential in encouraging and funding young entrepreneurs. We noticed that a lot of our students were young entrepreneurs and so we thought it would be really cool to find more young entrepreneurs that aren't ALA students and to support their efforts.
3. Very cool. What have previous projects been like? Are there any notable ones that you would like to share with prospective applicants?
That's a tough question because they're all so incredible. It's been around for 2 years. We currently have what we call 21 Anzisha fellows in our network. I would say they are all notable. I'll highlight two. Last year's winner, Andrew Mupuya from Uganda, started a paper bag making company at the age of 20, which happens to be the first registered paper bag making company in Uganda. And he's gone on to grow his business to employ 15 people. The oldest employee is 53 years old and he's a father of 8. He's also set up a branch in his home village in Mbale, Uganda.

We currently have 3 Tanzanian fellows. The first one is Fredrick Swai from 2011. He started what's called the Dreamers' Center. He's from a small town in Mbeya, Tanzania and he started a computer facility, a quiet workspace for his local community.

We've also had 2 fellows this year, one of which is David Mwendele. I said I would highlight two but I'm going to highlight four because they're all so incredible. But last year, one of the fellows was David Mwendele and he started the Let God Be You Foundation, which is a non-profit organization that does many things. His primary project is teaching young people how to make counter books. When he was young he wasn't able to go to school. He worked in a counter book factory. He decided to turn this into a positive experience by picking up the skill and then going on to teach a lot of the people in his community how to make counter books and then selling the counter books as a business. He now does t-shirt printing, photography, baking and other businesses.

And then there's also Faizal Burhan, who is a young inventor. He's from about 5 hours outside of Dar. And he built a microscope for his school just by using local items.

They're all incredible. But there's two things, if I can note them really quickly. You'll notice that a lot of our finalists are male, which is great but this year we're really reaching out to all you young ladies out there who are entrepreneurial thinkers and who have started a project in your community. So apply for the prize. We're also looking for young people who are science and technology minded. This year there's a special $10,000 award for an energy-related project so if you're working on renewable energy or biogas I'd really encourage you to apply for the prize as well. So tell all of your friends, nominate people that you know, to apply for the prize.
4. Are there any conditions that the winners are attached to once they have received notification that they've won and that they're going to this conference and they may win some money? What is in it for the African Leadership Academy or the Master Card Foundation?
That's a good question. I get that a lot. It's a colossal amount of money for a young person. It's unheard of, to invest over $75,000. There are a few things that we have put in place to make sure that the money is used as intended.

It's not a loan; we're not Kiva, it's not microfinance. There are no strings attached to a certain extent. We don't expect a portion or a share of the company. We don't expect to get paid interest.

All we want to do is encourage the development and the growth of the project, of the business, so that it goes on to have a ripple effect in the communities that it acts in. And hopefully employ other people. And then that way, stimulate the local economy.

But in order to do that, we need to make sure that the money is actually going into the project, into the business. I know how it is, I'm from Nigeria. And this is the case for any country. If you win an award, the first place that goes to is your family. Everyone has a share in it because they all played a role in developing you and making you who you are. While we do recognize that – that families do sometimes play a very important role – the money is intended for the business. So one of our policies is that the money has to be invested in the business.

What fellows do is, to receive their prize money, they put in a request proposal; a money disbursement request. They have to show what exactly they're using the money for. They don't get all the money at once; they get it in 4 different distributions throughout the year. In order to get the first one, they send the proposal and then we go through it. If we agree, we give the money. In order to get the second amount, they have to be able to show what they used the first amount for. Receipts and proof of payment has to be given as well. Just to make sure what its being used for. Hopefully in the next few years we won't need this system. But right now this is the system we have in place starting out.
5. I know you're travelling to Tanzania right now, but how are you reaching out – either on this trip or other trips coming up – to young people around the continent?
That's a great question and its something that I am – that we are all – still learning as we go. So the primary way that we've been reaching out is through holding these sessions. We've been hosting information sessions, Prize Tour sessions throughout the continent. Through that we're able to get into contact with schools, organizations, local media. And we really rely on the media to amplify the message beyond the cities that we're in. Although I'm in Dar, I really want the news to reach other areas. I want it to reach Arusha. I want it to reach Kilimanjaro, Mbeya, everywhere. We've been using – in terms of media – we've been using a lot of radio. Radio is huge. And online news sources, so blogs and news articles. We're really trying to break into TV and other media outlets as well.

We're also doing experiments with a few others things. This year we have bumber stickers, Anzisha bumper stickers, that we're sticking all around the city that I'm in. Or if I meet someone that's not from Dar and passing through Dar, I'll ask them "could you take this back to your home town and post it in a place where young people will see it?" to spread the message.

Another thing that we might be doing is maybe running billboards in certain areas. I've talked to someone from Uganda and they mentioned that's a really great marketing technique in Uganda to reach a lot of people and its cheaper than sending out a print ad, and there's a lot of traffic. So maybe we'll try that in Tanzania – that's one thing I've noticed – there's a lot of traffic. People have time to wait and read billboards here.

We want to know how to reach you guys. We want to know what's the best way to reach people in your city, not only in Dar but across the content. What's the best way to reach young people in Lagos, what's the best way to reach young people in Cairo. We really encourage you to go to our Facebook page or our Facebook wall and give us ideas. Let us know "when you're in town, this is where young people meet, these are the TV shows we watch". All that information is really helpful and highly encouraged. So just check out our Facebook page and post your ideas there.
6. Finally, what is the plan for Anzisha's future? Where is the Prize heading as an organization or as an initiative along with all its fellows as it builds up momentum?
I'll tell you what our vision is for the future. Who knows what it will bring? But we're hoping to create a network of highly, highly motivated, highly empowered young entrepreneurs. My personal goal is to in some way to have – there is – a youth sector, but it isn't taken seriously in most countries. Usually they will add it with sports – like Youth and Sports – they don't really know what to do with the youth.

While investment in education is very important, we would love for there to be actual government investment in youth entrepreneurship as well because the two go hand in hand. You go to school, you learn certain principles and you apply those principles into something tangible, like a business, a project.

I would love to see youth entrepreneurship incorporated as a known entity, a lever of economic growth that's known across the continent. I would love for Africa to be an example for the rest of the world on how to effectively empower your youth at a young age to start their own businesses. To really make an impact. And maybe one day there will be more shows and magazines that feature young people. Maybe there will be a Forbes Young Person Edition. Who knows, sky's the limit.

Our overarching goal in everything that we do – the Master Card Foundation, the African Leadership Academy, all of our partners, all of our supporters – we all want to see Africa succeed. We all want to make an impact. We want to see a better Africa tomorrow than we currently live in today. We really all agree that the youth are the future, we are the key to that. So we're just putting the money where our mouth is and investing in young people.
7. Bonus question: You must have gotten this a lot, but are you related to Chinua Achebe?
I am. I did not write the book and I can bear no claim to any of his genius. But I am honored to be able to say that I am his family. [You're his grand daughter?] I'm his grand niece. He and my dad grew up together for a portion of their lives. He is my dad's uncle. But they are close in age. Uncle Chinua is the youngest in his family, and my dad is the oldest in his family. And when you're a boy in Nigeria it is not uncommon for your family to send you to live with one of your uncles or aunts to learn manly skills. So he was sent to my uncle Chinua's house and they were close enough in age to be playmates.
Well this has been an honor and maybe we can be in touch and have that be a different interview. Today we talked about Anzisha maybe next time we could talk about literature in your family. Thank you very much, Chidinma and welcome to Dar again.
Thank you. You guys rock!
Chidinma can be contacted via prize[at]anzishaprize.org.
Takeaways (Source: About Anzisha):
The Anzisha Prize is looking for African social entrepreneurs between 15-22 years old

Finalists are hosted in South Africa for a weeklong entrepreneurial conference
Finalists stand to collectively win $75,000
Finalists will have access to lifelong mentorship from the Anzisha network
Applications are due

1st April 2013

| Apply via online form, PDF or video
Further reading: