Woman Scream 2015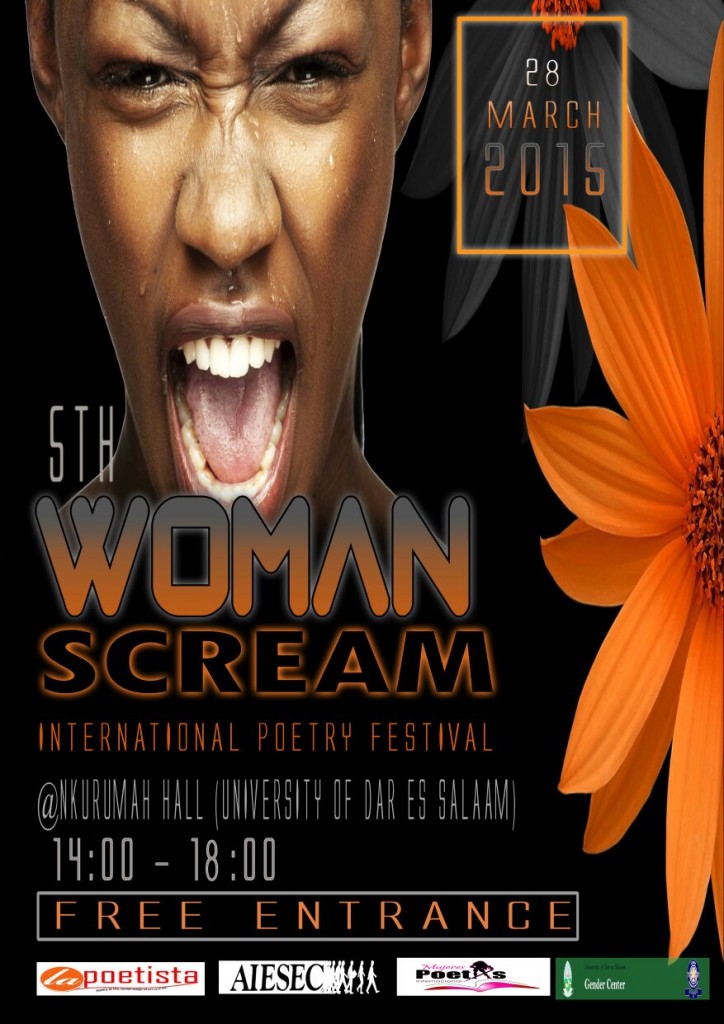 Every year in the month of March, poets all over the world join hands to fight gender based violence through Woman Scream. Woman Scream is an international poetry festival aimed to fight violence against women founded in the Dominican Republic, by Women Poets International(MPI). It is said that poetry can be as lethal as a sword, if not more. Tanzania is joining more than 30 other countries in this movement this year.
Woman Scream Festival in Tanzania will take part on March 28, 2015 from 2.00PM to 6PM at Nkrumah Hall, at the University of Dar-es-Salaam. The festival is organized by La Poetista, a group of poetry and art lovers, in collaboration with AIESEC University of Dar-es-Salaam Chapter, an international student organization and the University of Dar-es-Salaam Gender Centre. Different organizations will also participate including Legal and Human Rights Centre (LHRC) and Femina HIP.
Violence against women has many faces, most of them are unexpected. Victims of violence have one common trait, silence. The silence may be due to shame, social stigma, fear, lack of knowledge, and other social circumstances. Join poets, activists, and university students as they raise their voice to break the silence against violence.
So we have decided to act-again
Unite our voice into one
Until no violence becomes- an act- that's a reality,
Until love becomes the creed of this nation,
Until we know that we are safe,
Until our daughters are saved-
And we will act again,
Until none of ours have to fade into dust,
Until none of ours pay with their life.
– Poem excerpt by Neema Komba
Violence is everyone's affair. Join US!
Event details:
Date: Saturday, March 28, 2015
Time: 2pm – 6pm
Venue: Nkrumah Hall, University of Dar-es-Salaam
Free entrance
Previous posts: