Q&A with Caylee Talpert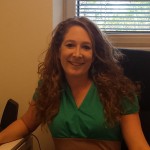 Caylee Talpert is a Deputy Director for Pears Program for Global Innovation at Tel Aviv University in Israel. The program works to connect technology and innovation between Israel and emerging markets. Caylee says they have a particular focus on East Africa. The idea behind the program is to share relevant skills and expertise from Israeli companies with emerging markets start-ups. She says Israel has a favorable tech ecosystem that allows thousands of start-ups to be established every year.
Caylee recently talked to Vijana FM at the sidelines of the just-concluded Transform Africa Summit in Kigali about Israel's experience and what can be done to boost tech entrepreneurship and innovation in Rwanda and wider East Africa.
JP: Tell us about Israel's experience
CT: Israel has a thriving technology ecosystem. Government has played an important role [in] attracting investors, so they have made funds available since the 1970s. They co-invested and they brought in foreign investors. So making money available helps.

[There is] also a very good education system, and there were a bunch of external factors that also affected Israel. They had a lot of educated immigrants.

The lessons that I think are relevant to Rwanda [come from] success stories, because the success story motivates people because they see others who have made it. It happens and you know it started out of two people and they have sold out to Google and whoever it is. There are many examples of that in Israel. Create [opportunities for] angel investors and people who can invest back into the system and can give not only money but also skills and expertise, knowledge on how to start a startup. Take your start up from small scale to international reaching mass market. Israel like Rwanda is a very small country, so if start-ups want to grow they have to be looking outwards. So, I think that's another similarity. The start-ups that have been successful have been outwards looking. I think that's also something that Rwanda is working to do.

I see huge opportunities here, the path that Rwanda is on, in terms of its focus on technology, good policy, creating an open environment, is amazing. I have already seen more Israelis even at this conference and I think the more we can create connections and network, the better. Its attending these conferences where you can see exciting partnerships.
JP: What can Rwanda do to attract more angel investors?
CT: I have spoken to a lot of people at the conference, [including at] a session this morning on women tech entrepreneurs. And one thing they all spoke about is [how] everyone is focusing on building apps and teaching developers. [This is] great, and it's very important, but what's next? So you don't have a situation where everyone has basic coding skills but is actually able to sell their applications and take them to market, monetize them and put the system in place.

To grow and take it to the next level – that seems to be what still is not here in this ecosystem! Partly because you haven't had a Rwandan per se yet. I think, may be to attract investors, [what's important] is also getting the skills and expertise to not just do the programming and the developing but [asking] how do we sell this, what is our market stream strategy, how do we scale it? I think Rwanda is doing a great job to attract investors already, but now it's ensuring that there is a pipeline for serious investors to come and invest and expand. So creating that pipeline and making sure they have the skills and expertise to take it to the next level.
JP: Do you have some local start-ups that you are interested in?
CT: I have been fortunate and I have spent time at K Lab and meeting some start-ups. They are great! It's very exciting to see young people and their interest. Pitches are great at Transform Africa. It looks like they [still] have some challenges to face in terms of their start-ups. They are so smart. They are so young and even [if] they don't succeed in their start-up, they are going to succeed [eventually]. I think there are more kids like those kids around here. I am excited to see what's going to happen in next 5 years!
JP: Do you know some promising local start-ups that could attract more Israel investors?
CT: I think something we would be interested to look at from Israel is less investors and more expertise. One thing we are working on in Israel is to get more investors interested in African markets. In Israel you have investors who really understand technology and technological risks, and they get worried [about] Africa; they don't understand the market risks of Africa.

Part of our work in Israel is educating and continuous awareness among Israelis about the potential and opportunities in Africa. That's going take time and maybe one way is getting more angel investors here, on the ground, seeing, learning may be co-investing with other African entrepreneurs. Investors that know the African markets – I think – could be a good way to get there. But I think what Israel has to offer is less money but more skills and expertise.

We have a lot of entrepreneurs who have succeeded in scaling. We have [already] sold to the likes of Google, Microsoft. The numbers are huge! How many are being taken over by these large companies? So they have been very successful at that and I think that if you could create partnerships, mentorships that Rwandan young entrepreneurs can learn from seasoned Israeli entrepreneurs or angel investors, then learning how to scale their products [becomes easier].

I think Israelis will also have something to learn. The thing they are missing is local content and local knowledge. That's the thing that Rwandan entrepreneurs could teach them.

So I think it's a very mutually beneficial relationship. We have just run a program in Kenya this past year. It's called the Pears Challenge and we worked with a group of Israeli entrepreneurs from diverse backgrounds. We wanted people that have good experience but no ideas. They are looking for the next idea, opportunity and we have done that a year before we run an accelerator. Again our mandate is Israeli entrepreneurs building business models for developing countries. And we realize that they weren't necessarily coming up with best ideas for Africa and that needs to be local.

Our idea was to take quality people with their expertise that have had start-ups, engineers, designers and let's expose them to the needs and opportunities here.
JP: What is the best way to attract investment in start-ups between bank loans, equity and angel investment?
CT: I am not an investor. I will give findings from my experience and I work for an organization where impact is very important for us. I happen to believe that the best way to create positive social impact is if there is a sound business model and if it's profitable.

One thing we have seen is that there is a gap. Even in Israel the start-ups we are working with that are social enterprises which [are] also emerging; there [are] a lot of good ideas but they are not going to get investment for a while because they don't have a proof of concept. Serious investors are not going to come in until you can show something on the ground. And in [the] African context, it's difficult! It is hard to get that initial investment and particularly, I think from speaking to some of my Rwandan friends, people don't have friends and family connections to bootstrap, which we sometimes have in America and Europe.

I think one of the things that is worth looking at is grant funding for the first stage. Grant funding to get them through the proof of concept so that they can go to investors and say we have done this and we working with these people, we have got a minimum viable product or a pilot. So I think something we encourage our start-ups to do is before you start talking to venture capitalists, get something to show them.
JP: In your view, what makes a successful a tech accelerator ecosystem?
CT: I will go from the feedback we have from our start-up's mentors, also having ventures that I have worked in myself. There is no substitute for experience, and a 10 minutes conversation with a mentor who has done it before can save your months or more of mistakes!

So I would say creating that network and ecosystem of mentors [is critical]. We [host] regular speed mentoring sessions where we have mentors come even just for 10 minutes, they give so much value. [Make] sure you have the support because people who have done it before are generally happy to share their experience. To be open, creating a community within the hub of sharing knowledge and ideas.

Also making sure that you have complementary skills. Something we were speaking [about at] the tech girls' session is business development. Teaching the programmers business development, whether its lean start-up, whatever it is, that they are getting the whole picture and quality people [to] help them build their ventures.

Investment also definitely helps to get quality people. And also the linkages, even if the start-ups are at the early stage now, when they get to later stages, you have got the investors lined up or you have got people that are interested in following.

So that's what we did with our Pears program. We want accelerators and venture capitalists and we said we don't have ventures here, we have good quality entrepreneurs, but you now come judge. [They are] meant to be involved because when they get to the next stage, then they will have [a] deeper understanding of the entrepreneurs and of their businesses to invest.
JP: Do you have any future project to support Rwanda's tech ecosystem?
CT: Definitely! Rwanda is a great place – as I said I have seen more Israelis in Rwanda. I think the partnerships are there, there is already a lot of connections. Israeli start-ups I know that are working in Rwanda.
JP: Can you give examples?
CT: There is a start-up here called N-friends, which work with USSD Technology to basically connect the unconnected and they enable a whole range of services to people on simple phones. So whether it's in agriculture, in health, education you can access it through a simple phone. It's actually a very complicated [system] that's simplified to reach African markets. So that's one example. We actually did innovation workshops with them at K Lab which gave us great exposure to some of the entrepreneurs here.

We have had Rwandans attending conferences in Israel, and there is a lot of partnership potential in Israel. We are also looking at partnerships in terms of education level. As I mentioned I am based at Tel Aviv University and there is a lot of interest there at the business school [in] bringing African students and connecting. So something we are definitely exploring is how we facilitate connections at the college and the university level.

Yes, definitely part of being at this conference [enabled] some great contacts [with] great people, and I hope that in the coming year you will see Pears doing programs in Rwanda.
JP: So you will start your program here?
CT: Definitely on the table. We see Rwandan entrepreneurs and the ecosystem as a great place to start your start-up and then expand to East Africa. It's definitely something we encourage our start-ups to do. I have actually made quite a few connections between our start-ups and people at K Lab.

There was an investor that came from Israel. He has just started looking at African markets, and he was interested in Rwanda, so I think you will [build] more partnerships and collaboration in the future. We hope that there will be more Israeli companies and investors. It's already happening but I foresee there being a lot more in future. I hope so and I am going to work towards that.
JP: Any message to start-ups in Rwanda and East Africa?
CT: I think it's very exciting what's happening here. I think if I have to give [a] message, its [to] keep learning and growing. I think people here have something very unique, [it's] also [a matter of] understanding the local market and to recognize the value of that and also to develop products and services for these markets. That's where Rwandans and East Africans have a clear competitive advantage. Its where we from Israel are definitely missing something. So on one hand, take all the support that [is] out there, but also recognize the value of local entrepreneurs – people solving local problems. Yes, it's a long process; start-ups are not easy to keep. Someone once told me that "a start-up is never as good or bad as you think".
Further reading: