Can a single test solve Tanzania's low-employability problem?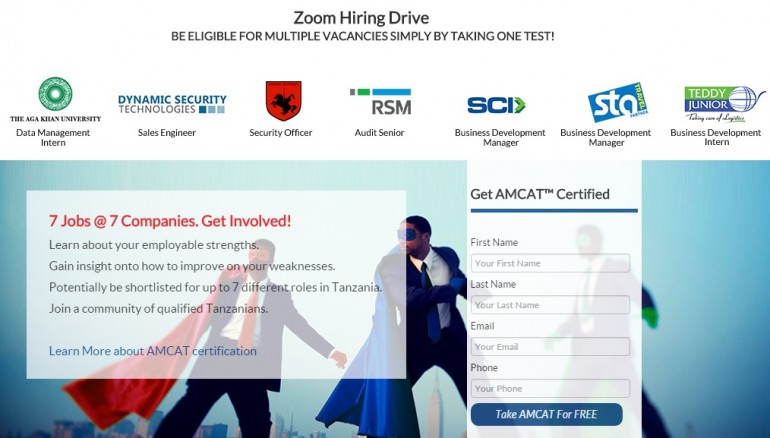 Dar es Salaam, Tanzania – ZoomTanzania, the country's most popular jobs site, is launching its first ever hiring drive.
From the 29th February to 14th March, job seekers will be eligible for multiple highly-coveted positions in seven reputable organizations, including, Aga Khan University, Dynamic Security Technologies and STA Travel Tanzania. All they have to do is submit their CV and take the AMCAT assessment test.
Established in India in 2007, the AMCAT assessment simplifies the recruitment process by supplying employers with a shortlist of the most qualified applicants to interview. To join the AMCAT database, candidates must complete tests on:
English
Quantitative Ability
Logic
Personality
Additional job-specific skills
Zoom's AMCAT manager Al-Amin Kheraj says, "The primary objective of the Zoom Hiring Drive is to enable job seekers to join a reliable and qualified Tanzanian talent pool."
Since its inception, AMCAT has become one of India's most popular employability assessments, and is now used by some universities to test students' career preparedness. Zoom hopes for similar success in Tanzania, which struggles with a workforce that lacks job-specific skills, English competency and innovation.
While bigger long-term changes in the education sector need to occur to improve the employability of all Tanzanians, the AMCAT test (provided exclusively by Zoom in Tanzania) helps connect employers with existing quality job seekers in the country.
Job seekers can get involved with the Zoom Hiring Drive by registering here.
About ZoomTanzania: Zoom is Tanzania's leading online classifieds and business directory. AMCAT is a product of Aspiring Minds, the global leader in Employability Assessments and Certifications and as part of our ongoing efforts to connect the most qualified candidates with the best employers, ZoomTanzania has become the exclusive partner for AMCAT Employability Assessment in Tanzania.