Driving at Work; Focus on Safe Drivers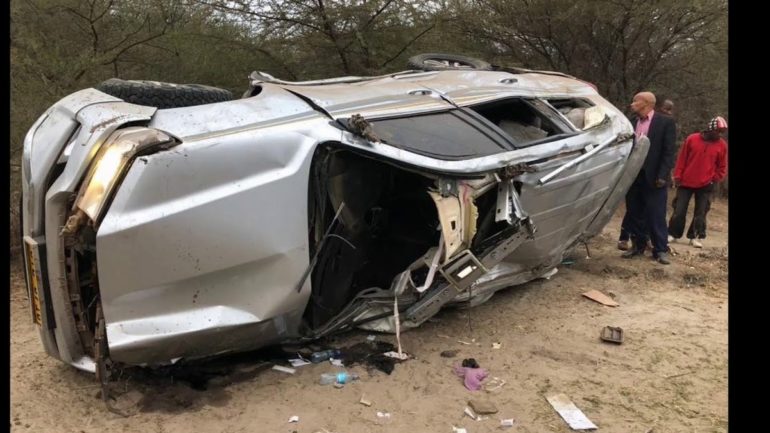 By Irfan Walji
According to the WHO global road safety status report of 2016, 1.35million people die every year globally (one death every 24 seconds!) due to road traffic crashes and the highest burden is in low and middle income countries, which have less than half of the world's vehicles!
In 2018, many road traffic accidents involving government officials occurred and some caused injuries while some claimed lives. In May 2018, three officials from Tanzania Investment Center were killed, in August, the minister of Natural Resources and Tourism was involved in a road accident, and in September, MP of Mtama was involved in a road traffic accident in Lindi region and in the same month the Msalala district executive director was involved in an accident in Singida. In October, 5 people from the ministry of Agriculture were killed in a road traffic accident. In November 2 government vehicles from the office of the Chief Auditor General and Public Service Social Security Fund collided claiming lives of 7 government officials. These statistics are from Tanzanian newspapers and only limited to government officials for the second half of 2018, the numbers of citizens involving women, children the elderly and adults for all of 2018 is astounding.
Driving is a complex and rapidly repeating cycle that requires skill and simultaneous ability to interact with the vehicle and the external environment.
The information of the environment is received by visual and auditory pathways and is operated by many cognitive processes; including short term memory, long term memory and judgement to execute the task of driving. Execution of the task of driving is done by the musculoskeletal system which acts on the controls of the vehicle and its relation to the road and other road users.
The whole process is coordinated by complex interactions involving behavior, strategic and tactical abilities, and personality. In the face of illness or disability, adaptive strategies are important for maintaining safe driving.
Effective management of work-related road safety helps reduce risk. Safe driving requires, among other elements, the involvement of:
Vision
Visuospatial perception
Hearing
Attention and concentration
Memory
Insight and understanding
Judgement
Adaptive strategies
Good reaction time
Planning and organisation
Ability to self-monitor
Sensation
Muscle power and control
Coordination
Given these requirements, it follows that many body systems need to be functional for safe driving – and injury or disease may affect any one or more of these abilities for safe driving. "Regular vehicle driving" is categorized as a safety critical work; safety critical work is any task that (in the event of failure) may lead to an accident, or otherwise compromise the safety of:
People (employees, clients or service users, the public)
Plant or premises
The environment
To make roads and driving safer, the following need to be considered:
1. Safe vehicle
Are vehicles fit for the purpose for which they are used?
Are vehicles maintained in a safe and fit condition?
Is the drivers' health and possibly safety being put at risk? (driving posture or seating position)
Are ROPS (rollover protective structures) and cargo guard installed where there is a risk of overturning?
Is there suitable seating and restraints for passengers?
Is there daily safety check (pre-journey checks) before using the vehicle and after a certain mileage or time?
Is there an appropriate first aid kit in the car?
Are tachographs (record information on driving time, speed and distance) installed and monitored if drivers are compliant?
2. Safe journey
Are routes thoroughly planned?
Are work schedules realistic? Is total work time considered or just total wheel time?
Is there a driving roster? Does it account for total hours worked and not just hours at the wheel to reduce driver fatigue?
Is there enough time to complete journeys safely? (placing inappropriate demands on drivers may compel them to speed)
Are weather conditions considered when planning a journey?
Is there a journey management plan?
Is best practice observed? (e.g.: is there a break after every 2 hours of driving? What is the criteria and conditions on night driving?)
Assessing risks on the road through a risk assessment (identify hazards, decide who will be harmed, evaluate risks, record findings and regularly review the risk assessment)
3. Safe driver
Are drivers competent and capable of doing their work in a way that is safe for them and other people?
Are drivers properly trained in driving and securing loads and ensuring correct weight distribution?
Are drivers' licences current and valid?
Is there a refresher and reassessment training to make sure their skills remain up to date? (even experienced people should be monitored to make sure they are working in accordance with both the training they have received and any safe systems of work)
Do drivers have clear instructions about how to keep themselves safe while on the road?
Are drivers sufficiently fit and healthy to drive safely and not put themselves or others at risk?
The following medical conditions can affect the ability of an individual to drive:
Neurological disorders such as epilepsy and seizures, blackouts (loss of consciousness), hypersomnia (excessive daytime sleepiness), transient ischemic attack (TIA); stroke, cysts, tumours, aneurysms, Parkinson's disease, dementia (Alzheimer's disease), vitamin deficiency, brain injuries etc.
Cardiovascular disorders such as, Myocardial infarction (MI); heart attack, arrhythmias (irregular heart rhythm), heart implants (e.g.: pacemaker), hypertension; high blood pressure, heart failures, heart blocks, heart surgeries etc.
Psychiatric conditions such as anxiety, depression, schizophrenia, cognitive impairment, learning disabilities and developmental disorders.
Drug or alcohol use and dependence
Visual disorders
Kidney and lung disorders
Miscellaneous disorders such as deafness, cancers, effects of medications, temporary medical conditions, fractures, musculoskeletal problems which interfere with driver's ability to look up, sideways or over the shoulder or etc.
Insulin dependent and non-insulin dependent diabetes mellitus
In the UK, for a diabetic to perform safety critical roles (including driving), the individual needs to be assessed annually by an occupational health physician in collaboration with a diabetes specialist based on the following criteria:
Be physically and mentally fit in accordance with non-diabetic standards
Be under at least annual specialist review and diabetic control must be stable
Be well motivated and be able to self-monitor their blood sugar at least twice a day
Have full awareness of hypoglycemic (low blood sugar) symptoms
Be able to demonstrate an understanding of risks of hypoglycemia
Stress is a major contributor to anxiety and depression and workplace psychosocial contributors include:
Work demands (e.g.: are not able to cope with the demands of their jobs due to excessive or insufficient workload)
Work control (e.g.: are unable to control the way they do their work)
Monotonous or repetitive work
Low job satisfaction
Work support (e.g.: don't receive enough information and support)
Work relationships (e.g.: are having trouble with relationships at work, or are being bullied)
Work change (e.g.: are not engaged when a business is undergoing change)
Qualities of a safe driver:
Should be properly trained for the duties he/she performs and should undergo periodic reassessment.
Physically and mentally fit individual. This includes pre-employment and in the course of employment, fitness which is certified by a medical practitioner who is aware of specifics of the job.
Driver should be aware of potential health challenges that may be encountered, e.g.: potential limited supply of prescribed medicines, including how driving affects his/her health, e.g.: Deep vein Thrombosis (DVT), varicose veins etc.
Should be aware of high risk behaviors that can affect safety, such as, alcohol, drugs, sexual behaviors and some prescription medications.
Should adhere to all legislation governing road, traffic and vehicle disciplines especially speed limits and use of hand held devices while driving!
Certified first aid and CPR trained with annual refreshers.
The United Nations has established SDGs (sustainable development goals) and SDG 3.6 refers to halving the number of global deaths and injuries secondary to road traffic accidents by 2020. This is an optimistic but achievable goal for us as a nation and it is possible to meet this tight deadline on a condition that all relevant sectors work closely with occupational health specialists.
Irfan Walji is an Occupational Health & Working Environment (HWE) Consultant and Medical Advisor