Q&A with Jessica Colaço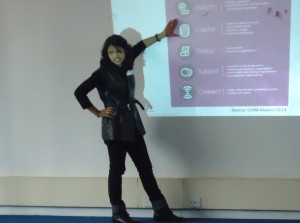 Jessica Colaço is currently the Director of Partnerships at iHub, a Kenya's technology and innovation community space. She was the Founding Manager between 2010 and 2011 at iHub and Research Director between 2011 and 2013 at iHub Research. Colaço says she uses her position at iHub to court local, regional and international stakeholders to adopt Kenyan-made solutions. She was named one of the top 40 women under 40 years in Kenya's business scene by Business Daily, a Kenyan newspaper, in 2009, 2011 and 2012. Colaço was recently a speaker at Tech4Africa Nairobi, a web, mobile and emerging technology conference held at iHub. She talked about the pros and cons of the tech ecosystem in East Africa focusing on digital entrepreneurship, tech hubs, mobile, web among others. She talked to Pierre Afadhali during the break at Tech4Africa Nairobi.
What are your views on the tech ecosystem in East Africa?
The tech ecosystem is in East Africa is definitely green. It's still in its nascent stages but we have made leapfrogs, especially in mobile and web. What we need to avoid is a lot of replication which I can see. I think replication is good if you really execute your idea well and you understand your value chain very well. But one thing I have really seen that is a challenge for start-ups is actually finding financing in terms of getting capital to build their business. They need a lot of investors to come into this stage of ideation and prototyping. So I have advocated for a lot of investors – especially Asian investors – to look at this stage of start-up growth.

Another challenge that start-ups face is actually reaching the growth stage. I have seen a lot of companies come out of this ecosystem and fail. Why? It's certainly something to do with teams – probably lack of passion or lack of the value added in the ecosystem or the value chain that flip focusing on. But I think the support of tech hubs and clear business mentorship, and shared services like legal, accounting, etc. is what we need to inject into the tech ecosystem to enrich the ecosystem, whereby we are providing mentorship and business advisory to these upcoming entrepreneurs.
Which roles do tech hubs play in the ecosystem?
There are different types of tech hubs. They range from co-working to actually accelerators to pure incubators. The iHub is a tech hub that is in a co-working space. We encourage communities of people to come into the ecosystem and get their ideas out into an entrepreneurial stage. We support people from idea stage to concept stage. Get your idea from your mind, mentally, and make it an actual and tangible or intangible solution that people are using to see that you actually have some valuable prototype.

The next stage is for other tech hubs and incubators to plug in, such as going into an acceleration program like what The Growth Hub is doing. They have a specific acceleration program for agri start-ups. We have other tech hubs across Nairobi like pure incubators which are Nairobi Startup Garage (aka 88mph) and iBiz Africa whereby they offer incubation services. And these are tech hubs that need to provide what I have mentioned earlier: Business mentorship, coaching, and shared services like legal, marketing or accounting.

So, the connecting and the supporting of these tech hubs is extremely important to the ecosystem. From the industry point of view, it's also partnerships for these tech entrepreneurs that support scaling to the next stage that is extremely important. Whether it's partnership with IBM, or partnership with different telco operators, I think cooperation provides entry points for these start ups to actually help them scale to the next level.
During Tech4Africa Nairobi, the focus was on mobile and web solutions. What is the success in this area?
I think if you look at the ecosystem in Kenya six years ago, the web and mobile were very nascent. Since then we have had entry of data via telcos. Right now we have households connected through fiber, so you are definitely going to use the power of Internet. What are you going to use? Mobile and web. So it's becoming very pervasive in urban areas. I think it still has to penetrate rural areas but I still think mobile and web are still going to be growth areas, even for Kenyan rural areas. It is still an untapped area right now. I feel across Africa and sub-Saharan Africa, mobile and web are still untapped areas. They are doing very well in the urban areas; there is a large mobile penetration here. Important questions now are: What about deep inside the rural areas? The villages? How do we reach them?
So, there is a huge opportunity.
There is such a big opportunity! It is still untapped. Africa is the next gold mine in mobile, web, hardware and big data analytics. Everyone is coming to Africa. Right now sub-Saharan Africa is what I would say will be the leading tech ecosystem from years to come, giving Tel Aviv and Europe Tech a challenge.
Featured links:
This interview transcript was slightly modified for grammatical clarity by the Vijana FM editorial team. Concerns can be sent to admin(at)vijana.fm.