Queen of Katwe and the Danger of the Single Story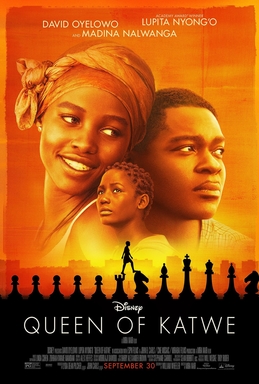 On a recent bumpy flight from Entebbe to New York City, I finally had the privilege of watching Mira Nair's Queen of Katwe. The film centers around Phiona Mutesi, a champion chess player from Kampala's largest slum, Katwe. Her character is portrayed beautifully by Madina Nalwanga and her mother's character by Oscar-winning actress, Lupita Nyong'o, while the character of the gentleman who introduces Ms. Mutesi to chess, Robert Katende, is played by David Oyelowo.
The film is absolutely excellent and a must-watch. The beauty of Uganda and specifically Kampala shine throughout. The film beautifully portrays the elegance of Luganda, resilience of Bana Kampala, the tragedy of the city's less fortunate, the centrality of the boda boda, the lake, matooke, its music, and many many other things about Africa's Pearl. The film's soundtrack is also superb (Listen to it here).
Watching the film made me terribly miss Kampala in all of its glories. It also made me appreciate the telling of a story about a demographic seldom portrayed in popular media – young black girls. That this story should be told by a woman as excellent as Ms. Nair is also very powerful not to mention the excellent performances by Mses. Nalwanga and Nyong'o.
The film, however, made me think critically about the politics of representation and the unidimensionality of such representation. On the one hand, it is laudable that a story such as Ms. Mutesi's triumph over poverty using mainly her mental prowess in mastering chess is a powerful one for the representation of girls, particularly black girls and women. On the other hand, however, it may signal that black girls, black folks in general I suppose, only deserve to have their stories told and indeed escape poverty only through superior mental skills endowed to them from birth.
Meanwhile, white boys and men may be represented by virtue of just being.
In one particularly problematic scene, Ms. Nyong'o's character – Ms. Mutesi's mother – retorts to a fellow trader, a mother herself, that their daughters would not continue to sell maize together at the market because her daughter (Ms. Mutesi) would become a chess champion and escape this life. This is obviously great but it made me think about who will come to the aid of this other woman's daughter in her quest to escape poverty? Surely just because her daughter cannot master the strategies of chess do not make her any less worthy of a better life, equal to Ms. Mutesi's.
I must admit that of course the white man's representation will always continue to be problematic, for me. If the portrayal is of triumph then I will lament why triumphs of black girls, for instance, are not being equally portrayed. If the white man's criminality or failures are being portrayed then I may still lament why black folks cannot be "bad" too in popular representations while still rejecting such bad portrayals given their ubiquity in the status quo societal imagination.
So I admit that complaining about Queen of Katwe seems counterproductive, however, insofar as it is yet uncommon for us to celebrate girls and black girls in particular then we need what Chinua Achebe called a "balance of stories". Representation matters but let us remember Chimamanda Ngozi Adichie's warning of the danger of the single story.
Queen of Katwe is a fascinating story, told very well, and I encourage the reader to watch it. Just be cognizant that black girls or women (or black boys and men) who do not win chess competitions or help astronauts go into space or help improve open-heart surgery also deserve their stories represented. They too deserve all of the happiness that comes from being acknowledged and valued. If incompetent mediocre white boys can get medals for just participating, then black girls in Katwe or in the slums of Nairobi or in the favelas of Brazil also deserve recognition simply for their existence. They don't need to be chess masters, Fields Medal-winning mathematicians, nor Nobel Prize-winning surgeons to deserve recognition and representation.