5 questions with Tuko Pamoja's Arzoo Rajpar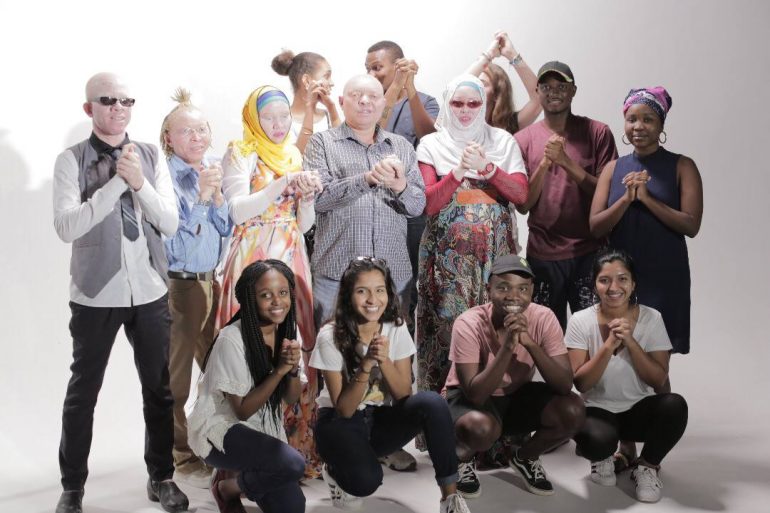 The Tuko Pamoja Initiative, founded by Arzoo Rajpar, is an organisation that aims to dismantle the stigma and plight against People with albinism in Tanzania. For hundreds of years People with albinism have been subject to severe discrimination and marginalisation and live their lives under constant threat of attack and persecution. The Tuko Pamoja Initiative's goals are to empower PWA in Tanzania, to boost their confidence and self- esteem and to create a mindset of self belief.
Vijana FM asked Arzoo 5 questions about her work.
1. What inspired you to be so passionate about this topic in particular ?
I have always had this drive and ambition to help underprivileged individuals in my community. I began my work with People with albinism when I was only 15 years old, by creating a documentary aimed at raising awareness about the stigma that surrounds them here in Tanzania. I then conducted thorough research about the discrimination they face and what needs to be done in Tanzania. I found that our current methods to solve the issue aren't progressing and are therefore not as effective as they could be. Hence, I decided to start my own project which aimed to solve the problems that people with albinism face in a more creative, youthful and empowering way. This is how I came up with the Tuko Pamoja Initiative.

I strongly believe that each individual deserves the right to access opportunities and to live happy and safe lives. Unfortunately that is not the case for People with albinism in Tanzania. Through my work with these individuals, I have become more passionate and determined to solve this problem in my country. I have built close relationships with many people with albinism and I can proudly say that they are some of the most intelligent and brilliant people I know.
2. Have you faced any challenges or criticism throughout the process of making this organization a success ?
I have faced a large number of challenges as well as criticism when starting my initiative. Many people, close to me and strangers, did not believe that I had the ability to do what I have done so far. I have found it extremely difficult to gain support from large, financially able organisations in Tanzania which has often discouraged me and made me question why I continue to fight and work alone, towards goals that we should all strive towards. However, I have always been one to prove people wrong and I hope that eventually I will gain support from other organisations in the Tanzanian community.
3. What makes Tuko Pamoja different from other organizations that support people with albinism ?
The Tuko Pamoja Initiative is different from other organizations that support people with albinism due to the fact that all our projects are conducted in a creative and youthful way. We aim to empower and uplift people with albinism, by promoting body image positivity, providing life skills and confidence training. We have moved beyond simply creating awareness, to ensuring that the individuals we work with are ambitious, motivated and ready to reach further and keep pushing for their place in society. I have found that the arts, an area that I am very passionate about as well, is an effective tool to convey a message and create inspiration. This is why we have chosen this direction as an initiative.
4. What does Tuko pamoja hope to achieve in the long-run ?
The Tuko Pamoja Initiative aims to conduct a drive providing sunscreen, sunglasses and hats to 200 people with albinism, protecting them from the sun and reducing the risk of skin cancer, an illness that many of them are prone to due to the lack of melanin in their skin, hair and eyes. We would like to make this an ongoing project, eventually selling these products at low prices or providing them free of cost depending on the individual's financial situation. We are also in the process of finding employment for 4 individuals we are working with at the moment. This will also be an ongoing project where we move from one group to the other. We hope that eventually the people we have trained can take the responsibility of training other people with albinism, thus creating a cycle of empowerment and motivation.
5. Is there any advice you'd have for the east African youth ?
The advice I would give for East African youth is to never give up no matter how many people try to discourage you. We live in a community where each child is raised to pursue formal careers, that fill up their bank accounts and discouraged from doing anything that may require some struggle and a great deal of compassion. I will not hide the fact that humanitarian work is one of the hardest things to do, especially in a community like ours, however, it is not impossible, nothing is. We are the generation that must change mindsets, that must do the unconventional and mend the wounds that have been created in our world. I would like the youth to know that our time is now, not in 10 years, not in 5 and not tomorrow. Our time is today. There are people who have accepted that this is how the world is and there is nothing that we can do to change it, however I believe that is the worst mindset to have. I always say, aim for the stars and if you only reach the clouds then at least you got somewhere! Keep working, caring and doing more than what you were raised to do and are expected to.
Further reading :