Five Questions with Neema Komba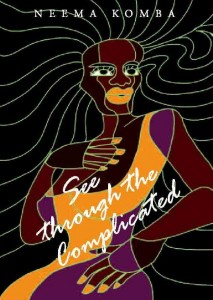 "See Through The Complicated is a collection of poems that represent a journey towards hope. Life comes with a lot of ups and downs and situations that are sometimes too complicated to comprehend. Sometimes, because of the many downs we may fail to see the ups. To sail through the hardships, we need to believe that it will be alright, we may need to be told that it will be alright. We may need to be told that we can do better than wait and that someone understands and cares; that they have been through it before, that we are not alone."
Those are the opening words on the description of the very first book by Neema Komba — 23-year-young Tanzanian lady, pursuing bachelor's in Accounting and Financial Management in Ohio, US.
Last week, we got an opportunity to interview Neema, who was more than happy to take us through her journey, as a poet…
1. First of all, we would like to congratulate you for publishing your first poetry book! Tell us how the journey was like — from the days when you were learning how to read, picking up a pen and trying to write your name for the first time, to this moment today, as poet..
Hahaha! The days I was learning how to read; where to begin… My parents and teachers must have had a really tough time teaching me how to read and write. I remember while learning the alphabets (in English) my teacher said to me, 'this is "e". "e" looks like maharage.' Had I known then what I know now, I would have been a little more creative and said something like letter "e" rhymes with "me"!

Writing has really seen me through everything — harshness of adolescence as I tried to find my identity, boarding school as I dreamed of home cooked food, my very first boy-crush to 117th one, heart breaks and finally this;  my biggest accomplishment yet. I have come really far, and I thank God for everything!

2007, my freshman year at University of Dar es Salaam  while waiting in line for my ID badge, I had an epiphany. I had been writing since I was 12, but I never thought about what I wrote for. On that day I said to myself, I wish to continue living long after I am dead. I wish to leave a legacy — not just millions of dollars in my bank account a gold casket on my flashy funeral. I wish to be remembered for something more profound. I wanted to make a difference and touch people's lives (I am still working on it). But it was that kind of thinking that led me to make a change from a closet writer to a published author…
2. Why poetry in the first place, and not other forms of literary content?
I wanted to say everything yet still be able to hide. Be completely open but mysterious. I find the contrast very interesting. Also, poetry breathes life into feelings. I haven't always done poetry… I only started with poetry in 2006. Before that I wrote fiction and personal journals.

In 2004 I had gone through a personal tragedy and numbed myself to deal with the pain. Through poetry  I was able to feel again, and be human. Yet I have always loved poetry. Shakespeare and hip hop are my biggest motivations.
3. What are the main themes of your poems? What should your new fans expect from you, especially in See Through the Complicated?
My poetry is about everything: Things I go through that are worth sharing; things people go through; people I meet that inspire me etc.

For example, in 2008 while working in an orphanage in Dar, I met a boy that really inspired me. He was 7 years old at the time, lost his parents to HIV, was abandoned, and was on ARV's… But he was fasting (Ramadan) and refused to break the fast no matter what. He said he had to fast so his brother could get better.  Sometimes we do not realize how blessed we are , and constantly complain about everything. This boy put me to shame, and his story is worth telling the world.

Therefore, I can't really say I have a specific theme. But in the end what I wish people find in it is HOPE; for I found my hope while writing it.
4. You are still young and I am sure you will only get better at what you do. On the other hand, I understand you are currently pursuing a career in accounting and finance management. Just out of curiosity, if you were to choose between finance/accouting and writing poetry, what would you do (given that both of them provide the same income)?
Accounting and financial management or writing?.. This is a tough choice. I try to think along the line of one without the other, but it doesn't work…

Thus I am creating a merger between the two. I am going to work hard in business, and from my experiences, and the advice that I have received thus far and that I will receive in the future, write to help start-ups and aspiring entrepreneurs.

I am documenting and will keep documenting everything, from the formation of an idea to income generation, and every challenge in between. That is, where I am headed next, and I am very excited.

I will keep writing poetry because I believe I will meet amazing people… feel different emotions. I will learn different lessons, and there will always be issues that need to be addressed.
5. Which verse/poem from See Through the Complicated is the "best" or "special" to you?
Let me begin by saying, every verse is special! They are like my babies… it is hard to choose one over another.

The verse I would like to share — I think — embodies a lot of meaning. It is also the last verse I wrote for this book. I call it 'My Freedom Rhyme'. This verse is the kind of freedom I imagine when I write, the kind of power that writers have, and the kind of change that words can bring.

-TRUTH.-

Welcome to my freedom rhyme.
Here, the battle of the mind was won.
I chose to become me over you,
When my paper was my battlefield
And my pen a nuclear weapon,
When Identity was worth more that oil
And countries were lesser than souls,
When nations failed to be gods
And terror was no more,
When people like you and I spoke,
This song was born.
We would like to thank Neema for speaking to us, and are taking this opportunity to wish her all the best!

Important Links: